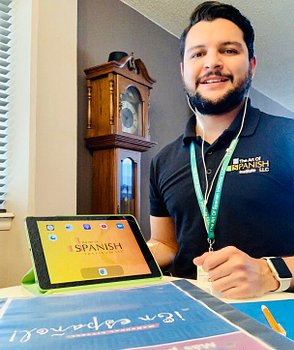 Online Spanish Private Lessons
BENEFITS OF ONLINE SPANISH PRIVATE LESSONS:

-COMMUTE: Eliminate commute time and save your time. Convenience of learning in your own home, office or while traveling!
-TAILORED: You want to be assured that teaching methodology and class are completely adapted to your child's needs!
-PASE & PLACE: You can learn faster and at your own pace! Study from anywhere you want!
-SCHEDULE & TIME: We will schedule your classes according to your needs. You need to learn in a very short time!

Learning a new language should be fun and easy, but it also takes a commitment to studying, practicing, and more importantly, time. You should also have realistic expectations. Students typically notice results in 6-9 months-increments, so plan on taking Online Lessons that long. Your teacher will assign homework as needed and give you study tips to help you improve your conversational skills. Be prepared to study and do homework for at least 90 minutes between classes.​
To ensure the highest level of quality instruction is provided and goals are being met, TAOSI classes are continually monitored and assessed by Javier Morganti, Founder-Director of the School. If you're interested in learning more about our Online Spanish Classes, please contact us today.
Please contact us to schedule a FREE 30 minutes Introductory Meeting and Spanish Placement Test. Here we can talk about classes, materials, dates & times, and what would be the best program for you.
PRICES
Online Spanish Lessons "1 Student" -just you-
Some packages we recommend:
ADITTIONAL CHARGES:
Registration Fee:
$75 One time per student.
Forms of Payment:
1-ACH Bank Transfer
(free)
2-Credit & Debit Cards
(A Convenience Fee of 3.5% will be charged on
all credit/debit card payments)
Instructions for completing the Registration Form
1. Use only the latest version of Adobe Reader https://get.adobe.com/reader/
2. Before completing the form save it (PDF format) to your Desktop on your computer.
3. Open the fillable form.
4. Fill out the first page, read carefully the second page and sign it.
5. After you have completed the form, save a final version of the file on your Desktop.
6. When ready, email us the Registration Form. Don't forget to attach the file.
Do not complete the form online within your web browser; your data will NOT be saved. Please save it to your computer first, and then fill it out.
$456.00
$912.00

$608.00
$1216.00
We are now offering Online Individual Spanish Lessons to cater to anyone who is serious about learning Spanish but does not have the ability to come to our Institute weekly for classes. We use an online-video call to connect you with your teacher so that you still get the benefits of in person one-on-one classes, but with the convenience of learning from the comfort of your own home, office, or other location.
These classes offer ultimate flexibility and can be tailored to your needs, making it a great option for business professionals, co-workers, or any other individual looking for highly personalized attention and accelerated learning.
Online Individual Spanish Lessons are a great way to guarantee that you learn specific Spanish and gain the conversation skills that you need for your professional field or specific interest.
Our Online Individual Spanish Lessons are the best way to pack maximum learning into your busy schedule. They are also the most flexible option, because you alone choose the time. We can schedule your classes M-F and start as early as 9:00am and end as late as 8:00pm.
1 class, 1.5 hrs.
2 classes, 1.5 hrs.

1 class, 2 hrs.
2 classes, 2 hrs.
6 hrs.
12 hrs.

8 hrs.
16 hrs.