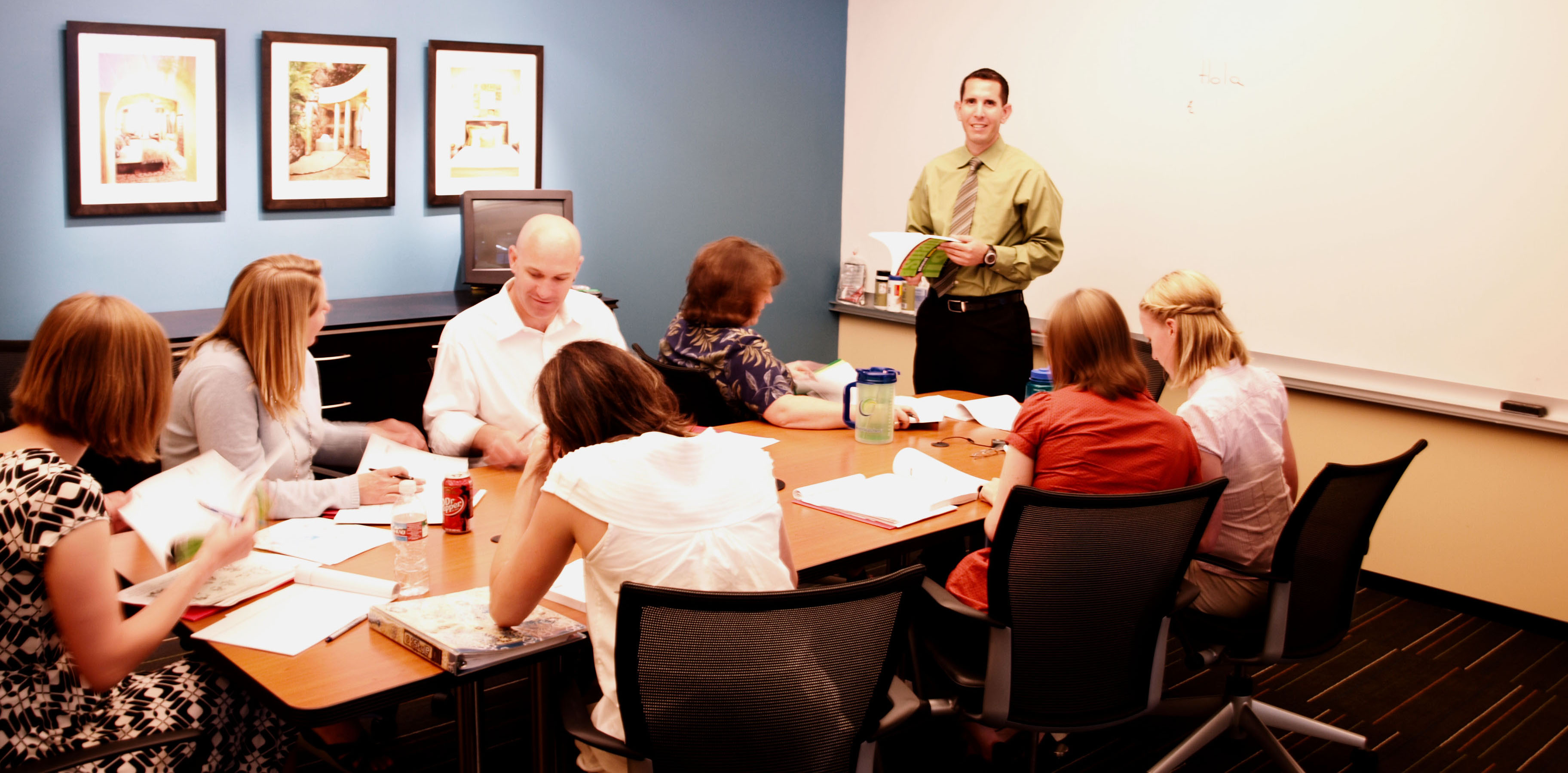 ONLINE ONLY-Spanish Group Classes
BENEFITS OF SPANISH GROUP CLASSES:

-BENEFITS: You will learn interacting with classmates. You will learn not only from your teacher, but also from the students around you. You believe that learning a language is better accomplished as a team.
-ENCOURAGES TALKING: Group work encourages everyone to participate in the communication through speaking, and this process builds up the confidence of the student. After some time, talking in Spanish becomes natural for you!
-COLLABORATION: We encourage students to work together. When working in groups students help each other to learn by clarifying confusing points and answering language specific questions in a way that the non-native students can understand.
-RELATIONSHIPS: To learn Spanish in a group means you will have constant interactions with your peers. These will foster relations and friendships that will go beyond the school compound!

Our courses are designed to be effective. Likewise, our teachers are able to help you obtain the best results whether you are in a group or working one on one. Choose the course that best fits your needs and we will adapt ourselves to your circumstances no matter what they are.Group classes are ongoing, with open enrollment (no end date). Groups are capped at 10 people to maximize learning for each student, but as people drop out for various reasons, new students take their place.
Learning a new language should be fun and easy, but it also takes a commitment to studying, practicing, and more importantly, time. You should also have realistic expectations. Students typically notice results in 6-9 months-increments, so plan on being here at least that long. Your teacher will assign homework as needed and give you study tips throughout your time here at The Art of Spanish Institute to help you improve your conversational skills. Be prepared to study and do homework for at least 90 minutes between classes.​
To ensure the highest level of quality instruction is provided and goals are being met, TAOSI classes are continually monitored and assessed by Javier Morganti, Founder-Director of the School.
Please contact us to schedule a FREE 30 minutes introductory meeting and Spanish Placement Test. Here we can talk about classes, materials, dates & times, and what would be the best Group Classes for you.
Kim Opekar



I am extremely pleased with my studies at The Art of Spanish Institute. I began my studies with group classes with no previous Spanish education and within 10 months was amazed at how much I'd learned. When exploring different schools online the reviews of The Art of Spanish Institute were very positive and the best, specifically citing the exceptionally friendly and supportive environment. I found this to be the case. This was a productive and positive experience for me. It has been such an exciting experience, and the teacher has been very supportive of a new student such as I am. Their combination of listening, speaking, reading and writing, together with a focus on intensive vocabulary building, has been very effective for me. A new world has been opened up for me!
Thanks to all at the Institute for delivering all I hoped for and more!!
PRICES
ONLINE-Group Classes "3-10 Students" -join anytime-
If you are looking for a more affordable option but still the quality of 1 on 1 attention, a small group class is the way to go. A group class consists of strictly 3 to 7 students. We are firm believers that quality is better than quantity. Rather than try to fill up a class with multiple people, we cap our classes at 7 people to stay true to our mission of teaching with a personalized and conversational methodology.
We are offering 2 different levels from beginner to intermediate. Regular classes meet at the Institute twice a week in the evenings. The Spanish Language Program integrates speaking, listening, reading and writing. We maintain small class sizes to enable adequate time for conversation in every class.
Groups are arranged according to students' Spanish levels ensuring that classmates will have a very similar degree of communicative proficiency.
MONDAY & WEDNESDAY
5:00 - 6:30 p.m.
6:30 - 8:00 p.m
TUESDAY & THURSDAY
5:00 - 6:30 p.m
Intermediate - B1
(placement test required)
online
Intermediate - B2
(placement test required)
online
6:30 - 8:00 p.m
ADITTIONAL CHARGES:
Registration Fee:
$75 One time per student.
Forms of Payment:
1-ACH Bank Transfer (free)
2-Credit & Debit Cards
(A Convenience Fee of 3.5% will be charged on
all credit/debit card payments)
Instructions for completing the Registration Form
1. Use only the latest version of Adobe Reader https://get.adobe.com/reader/
2. Before completing the form save it (PDF format) to your Desktop on your computer.
3. Open the fillable form.
4. Fill out the first page, read carefully the second page and sign it.
5. After you have completed the form, save a final version of the file on your Desktop.
6. When ready, email us the Registration Form. Don't forget to attach the file.
Do not complete the form online within your web browser; your data will NOT be saved. Please save it to your computer first, and then fill it out.