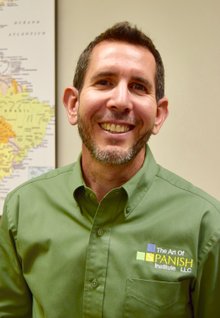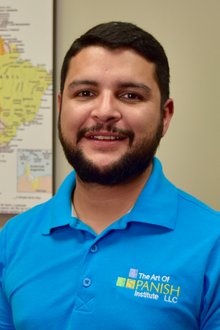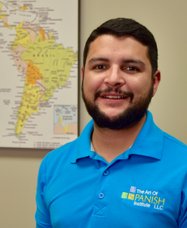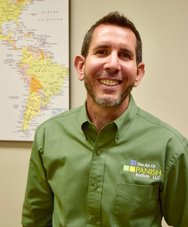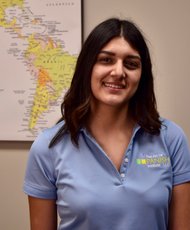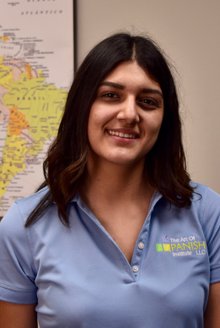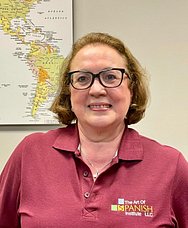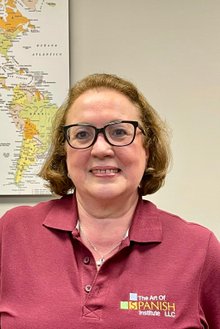 Javier A. Morganti is from Buenos Aires, Argentina. His passion for teaching Spanish led him to establish The Art of Spanish Institute LLC in 2004. He has a total of 17 years of experience in Denver teaching Spanish to both adults and kids. After teaching in several language schools in Denver, Colorado and earning his certificate in Professor of ELE (Teaching Spanish as Foreign Language) from Cervantes Institute, Spain, he saw a unique opportunity to create the ultimate Spanish-language learning environment in Denver. His teaching methodology takes maximal advantage of world-class language-learning technologies and the best instructional practices.
In his native Argentina, he received a Bachelor's Degree in Business Administration (U.B.A University of Buenos Aires), and then worked in marketing and administration for 7 years. Since coming to Colorado in 2001, he has gained wide experience teaching Spanish to English-speakers of all ages and backgrounds. He has taught at schools both public and private, from elementary, high school- up to university-level courses. Currently, he's using his business background and experience with on-site corporate trainings to extend The Art of Spanish Institute methodology to corporate and institutional language-training programs.
When you meet Javier, you'll see his lively passion for teaching and sharing his love of life. That spirit infuses the Art of Spanish Institute, creating a fun, friendly, and extremely powerful environment for learning. When he is not teaching or administrating the school, you'll find him on the running paths around Washington Park and Cheesman Park, trail-running on the mountains, mountain or road biking, photographing in the Rocky Mountains, backpacking or climbing his next 14er.
Create ultimate learning experiences for students of the Spanish language. Create fun, friendly but powerful environment to promote learner's experience. Dedicated and student-focused teaching professional. Who's committed to providing a well-balanced, supportive, and engaging learning environment for all students. Proficient at tailoring lessons plans to incorporate student's diverse interest, and capture their attention and imagination. Talent for integrating thematic units, cooperative learning projects, and class discussion to generate independent thought, improve speaking, reading and writing skills. Hard working and trustworthy educator, who strives to collaborate with all members of the school community to meet the needs of students and promote the philosophy of the The Art of Spanish Institute.
Javier A. Morganti
From Buenos Aires, Argentina
Certified Spanish Professor of ELE
Juan Carlos Garza-Uranga is a native Spanish speaker from the biggest state in Mexico, Chihuahua, "El Estado grande" He has lived half of his life in between Mexico City and Denver, Colorado.
He holds a B.S. in Communications from the Universidad Autonoma de Durango, Campus Chihuahua and he just finished his certification as a Professor of ELE (Teaching Spanish as Foreign Language) from Cervantes Institute, Spain).
He discovered his passion for languages at a very young age when he was exposed to French natives, and it was then when he started his journey learning French and English, later on teaching himself Russian.
Additionally he has experience teaching English and French for college students at his Alma Mater.
Juan Carlos moved to the Mile High City from Scottsdale, Arizona where he was able to improve his knowledge and teaching Spanish skills at The Biltmore Prep Academy in Phoenix, Az.
He finds a lot of fulfilment teaching Spanish to his students and watching them grow professionally and getting to love the Spanish language.
Juan Carlos is looking forward to share his knowledge and experience, and contribute to the professional and personal development of others in a dynamic and entertaining way to learn here at The Art of Spanish Institute LLC.
Juan Carlos Garza
From Chihuahua, Mexico
Certified Spanish Professor of ELE Kids Programs
Certified Spanish Professor of ELE
Kids Programs
Cecilia de la Torre, a México native, recently received her degree in Interior Design. Her love of history and art led her to document her life experiences on a website that portrays the history of her people in photographs and supporting narratives.
Spanish language and culture and the arts were always her favorite subjects. During her academic development she participated in spelling and writing competitions. She was also a member of a youth symphony that toured in Mexico, and she performed in smaller recitals. Cecilia just finished her certification as a Professor of ELE (Teaching Spanish as Foreing Language) from Cervantes Institute, Spain).
She has one year of classroom experience, improving methods of study that she acquired during her career. She developed a unique and passionate way to make learning fun and engaging for students of all ages and backgrounds. Cecilia always finds the best way to keep her students interested and working with motivation, for she is in the idea that Spanish as a romantic language gives the poet more words to play with, like toys to a kid!
In her free time, she enjoys nature and being with animals, especially horses.
She is excited about sharing her knowledge and experience of Spanish language, culture, and literature with her students at The Art of Spanish Institute.
Ceciclia de la Torre
From Jalisco, México
Spanish Teacher
Kids Programs
Elisa Quijano is from Maracaibo, Venezuela and a native Spanish speaker. She's an Architect and Historian with over 30 years of experience in different areas of education. A graduate from La Universidad del Zulia in Maracaibo, Venezuela, Elisa continued her relationship with the institution as Architectural History Professor, Editor of the School's magazine, and full-time researcher. Later on, she was part of an independent publishing group with many books and articles under their belt, mostly focusing on local history, art, and architecture.
As the daughter of Cuban immigrants and grandchild of Spanish ones, Elisa understands the importance of cultural exchange. The diversity that shapes her family, as well as many others from Latin America, is one that she hopes to bring into her classes.
Her love for art and history has taken her on many adventures around the world, as well as inspired her to dive into media that always expands her understanding and appreciation for these subjects. These are all experiences that she incorporates into her teachings, making the process of learning an integrated one.
Always writing and teaching in her native language, Elisa is excited to now share her love for Spanish and its cultural richness as a Denver resident here at The Art of Spanish Institute helping to develop her students' personal and professional lives.
Elisa Quijano
From Maracaibo, Venezuela