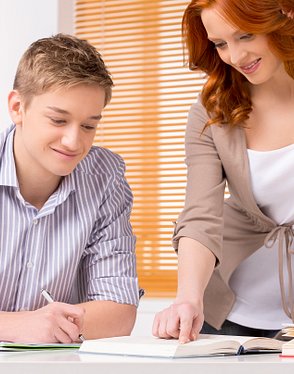 Spanish Tutoring For Teens
BENEFITS OF SPANISH TUTORING FOR KIDS:

-Your child will learn a specific subject in a shorter period of time.
-These classes offer ultimate flexibility and are tailored to your child's needs.
-Improves academic performance, retention, and personal growth.
-Improves self-esteem.
-Your child will become more confident with their conversational skills.

Learning a new language should be fun and easy, but it also takes a commitment to studying, practicing, and more importantly, time. You should also have realistic expectations for your child. Students typically notice results in 4-6 months-increments, so plan on your child being here at least that long. His/her Tutor will assign homework as needed and give them study tips throughout their time here at The Art of Spanish Institute to help them improve their grammar and conversational skills. Make sure they are prepared to study and do homework for at least 90 minutes between classes.​
To ensure the highest level of quality instruction is provided and goals are being met, TAOSI classes are continually monitored and assessed by Javier Morganti, Founder-Director of the The Art Of Spanish Institute LLC. If you're interested in learning more about our Spanish Tutoring Program, please contact us today.
Please contact us to schedule a FREE 30 minutes Introductory Meeting . Here we can talk about classes, materials, dates & times, and what would be the best program for your child.
Spanish Tutoring is the best way for your child to get the extra help they need when learning Spanish in their school. We use the materials they are currently using in their classes at school, but then expand and elaborate on the content so they get a better understanding of the language.
One of the main benefits of your child working with a Spanish Tutor is that our teachers can fill in any learning gaps while moving at a pace that is appropriate for their learning ability. The second main benefit is that Spanish Tutoring offers your child a safe environment for them to ask questions as well as practice their language skills. We understand that learning a new language can be intimidating, so our teachers work hard to create a comfortable learning environment so your child builds confidence and can be more engaged in their class.
We offer one-on-one tutoring for those who are looking for personalized time with a Spanish Tutor.
These classes offer ultimate flexibility and are tailored to your child's needs
ADITTIONAL CHARGES:
Registration Fee:
$75 One time per student.
Forms of Payment:
1-ACH Bank Transfer
(free)
2-Credit & Debit Cards
(A Convenience Fee of 3.5% will be charged on
all credit/debit card payments)
Heather D.
⭐️⭐️⭐️⭐️⭐️
My 13-year-old son Logan has been taking private, weekly Spanish lessons at the Art of Spanish Institute for more than two years. His experience has been fantastic! He has worked with different teachers over the years, but each of them -- all native Spanish speakers -- have been very professional and great at working with him. He has developed his Spanish speaking, comprehension, and writing skills tremendously. One of his teachers even had him exchanging letters with a pen pal in Mexico, which was a lot of fun for my son! We recently traveled to Colombia, where I often relied on my son to communicate on behalf of our family. Thanks to the Art of Spanish Institute, he spoke (and understood) Spanish easily and proficiently and was regularly praised by Colombians for his excellent speaking skills. I highly recommend the Art of Spanish Institute!

Dana Rondinelly
⭐️⭐️⭐️⭐️⭐️

It is important to me that my two daughters (ages 9 & 11) learn Spanish, and what they were learning in school wasn't at the level that I wanted. I turned to The Art of Spanish Institute and couldn't be happier. After a full day of school, my girls are actually looking forward to spending 1.5 hours studying Spanish! Javier makes learning fun for them. He incorporates games, books and other innovative ways that work. Not to mention that my girls think Javier is quite funny. There is always laughter and good fun incorporated into the learning. I would completely recommend The Art of Spanish Institute as a terrific Spanish tutoring for kids of all ages.


Stephanie White
⭐️⭐️⭐️⭐️⭐️

We are so pleased by and thankful for the experience our son (age 17) has been given at The Art of Spanish Institute. He is entering a program at school that will be rigorous in its language requirements, and we feel that he will be significantly more prepared, for having had the guidance of his lovely teacher. It is a comprehensive learning environment that is highly guided and structured. His homework has been relevant and manageable, and we are confident that he will enter his program this next year at school having benefited significantly for having the care of instruction and one-on-one attention provided by his teacher. The director of the School, Javier Morganti has worked with me, ongoing, to ensure that our son has the schedule that is right and best for him, and we continue to appreciate all of the support and communication that he and his team provides. Thank you so much, it continues to be worth the investment in every way! :)
Instructions for completing the Registration Form
1. Use only the latest version of Adobe Reader https://get.adobe.com/reader/
2. Before completing the form save it (PDF format) to your Desktop on your computer.
3. Open the fillable form.
4. Fill out the first page, read carefully the second page and sign it.
5. After you have completed the form, save a final version of the file on your Desktop.
6. When ready, email us the Registration Form. Don't forget to attach the file.
Do not complete the form online within your web browser; your data will NOT be saved. Please save it to your computer first, and then fill it out.
6 hrs.
12 hrs.

8 hrs.
16 hrs.
1 class, 1.5 hrs.
2 classes, 1.5 hrs.

1 class, 2 hrs.
2 classes, 2 hrs.
$456.00
$912.00

$608.00
$1216.00
PRICES
Individual Private Lessons "1 teen"
Some packages we recommend: